DoubleJack Tutorials
How our lottery portal works

DoubleJack.Online (here you are currently) is a philantropic gaming portal with a unique distribution system DoubleJack.Club, splitting profits between its players and charities, thus creating thousands of sustainable incomes in more than 190 countries.
Here you can win the biggest jackpots from the worlds most important lotteries.
Sign up and play your favourite lotteries. Let the jackpots be with you.
How our affiliate portal works

Automatically you get credentials to www.DoubleJack.Club which contains the affiliate passive income system.
You find all information about earning a substantial passive income, how to fund your charity with more donors, latest news and much more to monetize your friends, families and followers on a monthly basis.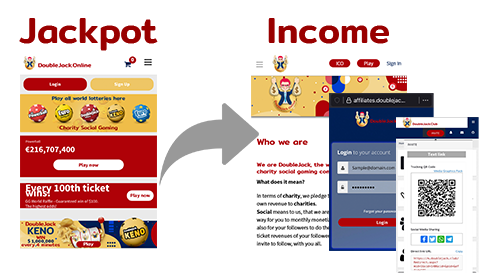 In the passive income system you can manage your income and your followers as sub-affiliates.
Find the red "Invite" button and share your personal unique link – or the qr-code – with your friends, family, followers, donors … everyone.
If anybody signs up with your link and buys lottery tickets, you will earn.
If anybody of your followers shares his link or his qr-code and anybody buys lottery tickets- you will earn, too.
This is why we call it:
Charity Social Gaming
Need more details?
Watch the tutorials section on the club-page:
https://doublejack.club/tutorials