About us
doublejack.online is a philanthropic gaming portal with a unique distribution system, splitting profits between its players and charities, thus creating thousands of sustainable incomes in 190 countries to give back better.
Gaming for social good means that we are offering not only a disruptive way for you to monthly monetize your followers forever but also for your followers to do the same, because we share all ticket revenues of your followers and from whomever, they will invite to follow, with you all.
How about a substantial monthly income for you? Here is how it works.
Buy lottery tickets here at doublejack.online
Find your invitation to our affiliate site doublejack.club in your emails. (check Spam-folder)
There you will find your personal invitation link for your sub-affiliates to play along.
All of their ticket revenue is shared with you on a monthly basis forever.
Watch the video to see how many affiliate levels there are and how to get to the next level.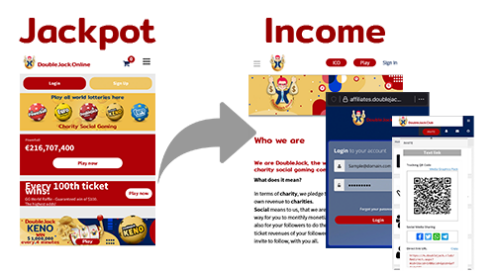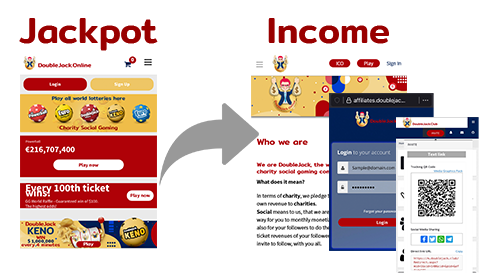 The Club Membership at doublejack.club is always free.

Your invitation will be sent to your email automatically, once you sign up at doublejack.online.

In your Club Membership email you will find your login and password to your member's area, where your personal invitation link and QR code is located, to spread it across the globe.

Invite your friends, followers and even businesses to play along with your link and receive a share of their spendings every month.
Raise your share by telling your invited friends and businesses how they can obtain a perpetual income too.